PREVIEW: ECO-FAMILY DRAMA AGULHASVLAKTE ON AT THEATRE ARTS, JULY 2022
Originally posted on the Cape Robyn website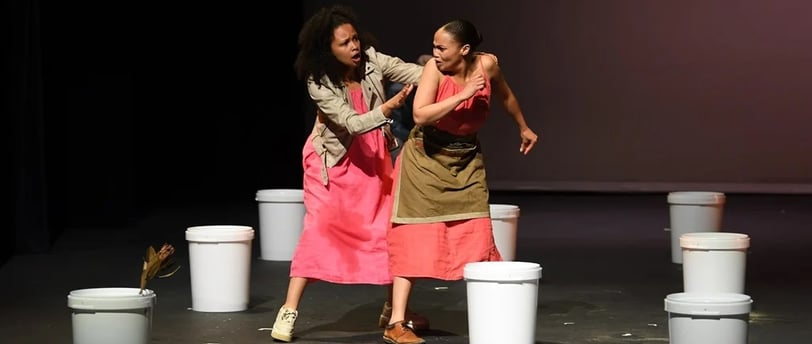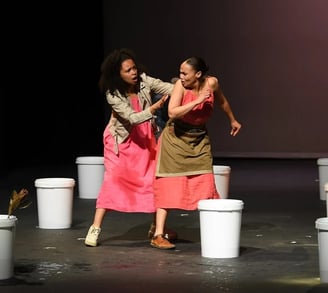 Agulhasvlakte – a play by Herschelle Benjamin – was staged at the 2022 KKNK (Klein-Karoo Nasionale Kunstefees) and the Suidoosterfees and now the producers of this acclaimed eco-family drama, are staging the play in Cape Town, at Theatre Arts, Observatory, from today- July 25, until Saturday – July 30. The producers are: Kanya Viljoen and Herschelle Benjamin, in collaboration with Vukallective. There are two matinees. Bravo to the creative team for exploring eco-issues in theatre and for creating a new play. Info as supplied:
Eco-family drama Agulhasvlakte on at Theatre Arts
After debuting at the annual KKNK (Klein-Karoo Nasionale Kunstefees) in Oudtshoorn earlier this year followed by recent performances at the Suidoosterfees, the riveting eco-and-family drama Agulhasvlakte will be on at Theatre Arts in Cape Town from the July 25-30, 2022.
This new work by dramaturg Herschelle Benjamin (In Slavenhuis 39, Die Al Kind) and directed by Kanya Viljoen (RAAK, Eurydice, Die Skrif Is Aan Die Muur) is set in an endangered biodiversity area where a lot of plant species are at risk of extinction but it's also the tale of two sisters, both extinct in the eyes of the other, trying to reach out.
Milly, a florist, battles her entire life against elements that threaten the biodiversity of Agulhasvlakte, her birthplace. Her sister Amy, a dynamic social media star and typical city dweller arrives unexpectedly. Amy is not well. She is losing herself in her incessant pursuit of success and was diagnosed with a mental illness. A moving story about two sisters who struggle with issues facing young people today: finding their true identity within their environment, family, and the modern world.
The cast
The cast includes Kay Smith, as florist Milly, René Cloete, as the younger sister Amy, and Wilhelm van der Walt. Nell van der Merwe and Viljoen are the set designers and stage managing by Keandri van Wyk. Kay Smith is well-known as Debra Mortlock in the telenovela, Arendsvlei, and was recently seen in the detective TV drama, Projek Dina. René Cloete was nominated this year for Best Upcoming Artist at the Fiëstas theatre awards for a role in The Infinite Woman and was also seen in the theatre production Huppelkind directed by Marthinus Basson. Wilhelm van der Walt is a multi-award-winning actor that has starred in many theatre productions such as Koningin Lear, Klippe wat Val and Dop.
Genesis of Agulhasvlakte
Agulhasvlakte was first proposed as a script idea at the annual Kunste Onbeperk's Teksmark at the Baxter Theatre in 2019. Thereafter Vukallective got involved to help produce the full-length theatre production. Their main focus was strategic in the marketing campaigns and raising funding for the play.
"The first time that Herschelle reached out to me about Agulhasvlakte, I realised that the themes of the story are much needed in the theatre landscape. Themes around land, ownership, gender-based violence, and mental health are all woven together in the reunion of the two sisters," says Viljoen. "Agulhasvlakte asks that we see ourselves again, not just as South Africans, but as people that are suffocating in each other's ecosystem."
Agulhasvlakte is produced by Kanya Viljoen and Herschelle Benjamin, in collaboration with Vukallective, and supported by NAC (National Arts Council), NATi (Nasionale Afrikaanse Teater-initiative), KKNK, Toyota US Woordfees, and Vrystaat Kunstefees.