Review: Thirst
The production Thirst, which was slyly marketed in three languages Nyorliwe and Dors opened on Tuesday night the 27th of March 2018 in front of a packed auditorium at the Andre' Huguenet Theatre in Bloemfontein.  The reason for that was pretty clear from the start – The production had an extensive two month long marketing campaign and the production itself was exceptional!
REVIEW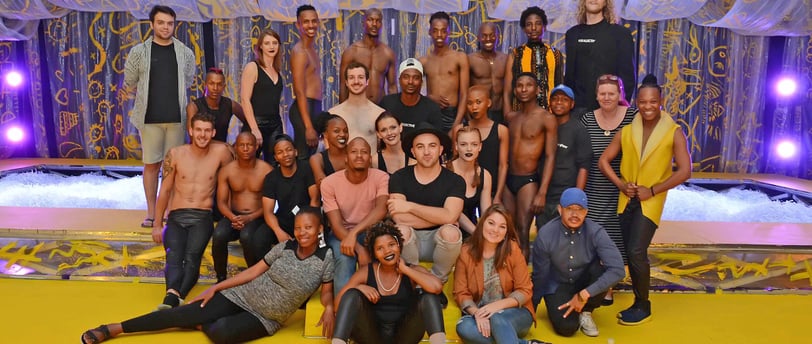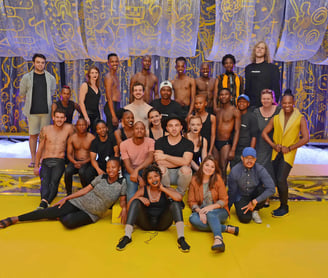 The production Thirst, which was slyly marketed in three languages Nyorliwe and Dors opened on Tuesday night the 27th of March 2018 in front of a packed auditorium at the Andre' Huguenet Theatre in Bloemfontein. The reason for that was pretty clear from the start – The production had an extensive two month long marketing campaign and the production itself was exceptional!
Director and choreographer, Mark Antony Dobson, needs no introduction and is a well known face on stage and the master mind behind many successful productions such as Let's eat hair, Hedda, Era and Arena. After the performance of Thirst many audience members were left saying that Dobson 'always finds a way to pull new tricks out of his artistic sleeve, and then blows you away', but for me it wasn't that simple. Dobson has indeed created a production that is bursting with creativity, but for someone who has watched all his work over the years Thirst wasn't so much of a new era for the Director, but rather a departure and amalgamation of his previous works all blended together in what felt like a swan song. More on this later.
Thirst formed part of the PACOFS and DAC incubator programme, which has been running since 2015. The production cast and crew were all mostly compiled from previous Incubator participants which Dobson mentored over the past three years and it showed in the performance. The choreographer Motlatsi Moeketsi Khotle's choreographic contributions were easily distinguished from that of Dobson's and the two's different styles blended together seamlessly. Thirst's choreographic style could probably be classified as post modern dance / afro-fusion / contemporary / performance art. With Dobson's work the genre is never easily distinguished.
Michael Garbett's set design is simply breathtaking, functional and pure art – with references to Roger Ballen's famous doodles reinterpreted through the use of transparent bubble wrap and the color YELLOW. The set combined with Gerrit Fourie's neon lighting design creates a moving painting, a living landscape and a breathing organism that becomes alive and a silent player. The same can be said for Francois De Beer's costumes and the music score created by Dobson. All these elements form a visual and auditory lust fest which takes the audience on an unforgettable journey!
With regards to the actual dancing taking place on stage I don't have much to say... except that all the dancers swept us off our feet in a flood of raw talent, breathtaking sequences, and heart wrenching emotions that left us gasping for air. Teddy B Vuitton's eyes told us everything we needed to know – this magnificent dancer and actor's emotional interpretation and soulful eyes left me with a lump in my throat. Equally beautiful was Mmase Jane who is a force to be reckoned with on stage, she is dynamite. If I knew all of the dancers I would name them here and say why they were so beautiful to me.
Dobson is known for his honest outlook and portrayal of everyday life and taboo themes – the so called holy cows that get slaughtered on stage and this time he hits you right in the balls.
The theme and title Thirst is very relevant, especially with the terrible drought in Cape Town and the ongoing water crisis the country is suffering from – but Dobson digs deeper and cuts your guts to shreds revealing the ugly truth about a deeper thirst – a thirst for acceptance, for forgiveness, for blending in, fitting in, believing in false prophets and giving up humanity just to have a sip of the so called "holy water"…
I couldn't help to giggle when I heard the echo of the well known Christian charismatic revival evangelist, Angus Buchan, when Franco de Wet – who portrayed the part masterly – bellowed over a megaphone: YOU'VEA GOTTA REPENTA YOURA SINSA! Hallelujah for actors like him! And to all you holy cows – don't get sour now – Buchan is NEVER mentioned.
I found this very funny and comical in a dark sense, it also sent shivers down my spine as Buchan's Pray for Rain Mass Meeting at Mitchells Plain in Cape Town was still fresh in my mind and in the newspapers – where thousands of people gathered and shouted "Rain! Praise Jesus," and then the absolute excitement as a light drizzle started to fall over the Buchan prayer meeting. When asked about the similarities between Franco de Wet's "Buchanesque" character Dobson simply replied that the character isn't based on anyone, but an amalgamation of many religious leaders who use natural disasters to manipulate the masses and trick them into believing that it is their sinful nature rather than just climate change or peoples irresponsible use of the world. Dobson and Khotle's choreography of the "Repent and it will Rain" dance will leave you on the edge of your seat. The dancers' absolute discipline, emotional portrayal and synchronized movements left all of us in a daze with their absolute resolution and ritualistic repetition.
Although I truly did enjoy the production it is not without fault. Some of the story line gets a bit vague here and there and audiences might have felt lost at some times, but these artists have never been known to spoon feed. The production is also very long at times (1 hour 15 min) and some of the sequences could have been shorter, but I feel like the art critic who told Mozart that there were too many notes in his work to which Mozart replied: "Which ones do you want me to take out?" in saying this. The production had a five month rehearsal period which is a luxury most artists don't have and at times some of the dancers seemed lost which is a detail I felt could have been avoided. I also did not like the Brechtian style of the backstage area being completely exposed to the audience, but it might be because I didn't want to be reminded that this was just a theatre production.
As with Dobson's previous works he turns the magnifying glass on subjects like religion, male power, sexuality, lost identity, unity, humanity and consumerism which he ebbs and flows into a masterful ocean of images. It is thus consumerism that has been the golden thread through all of his work. When putting Thirst under a magnifying glass it is easy to see how each of the previous works have influenced each other. The reservoir filled with shredded paper can easily be the set from Arena (2014) placed at the back of the stage being a portal into another world. The scale and use of graffiti in the set becomes a re-imagined floral print from Let's Eat Hair (2015). Many choreographic elements especially the repetition of Let's Eat Hair makes its way into Thirst as we see the relationships between men and woman. Even Charley Chaplin's song "Smile" is an eerie reminder of Michelle Hoffman's character who continuously yelled the phrase "SMILE" in Let's Eat Hair. The use of one singular color, like with Hedda (2017) here the pink is replaced with yellow to represent consumerism. An androgynous character is also present like every other production ever done by Dobson and those drag like elements are a treat to find. And then lastly Era which has a much more looming presence in Thirst. After the ritual and sacrifice in Thirst we are transported back to limbo and the following scenes are vaguely similar to the 2016 production Era and then Thirst ends exactly the way Era starts thus becoming a prequel to the piece. Dobson says it's all part of a bigger plan and retropective in the future.
As it was stated earlier in the week I will sum up Thirst as a theatre production "For the drinkers, and the thinkers, for the lovers of life, for the people who know that they don't know, for everyone who has questions unanswered, and prefer it that way. For the heroes, zeros, for the haters, for the makers and breakers…for all who have thirst…" and if you didn't watch it, its a shame.
Director | Choreographer: Mark Antony Dobson
Choreographer: Motlatsi Moeketsi Khotle
Costume Designer: Francois De Beer
Set Designer: Michael Garbett
Stage Manager: Phindile Mdi
Production Manager: Corlea Kloppers
Technical Team: Rondo Mpiti
Gerrit Fourie
Graphic Designer: Erick Strydom
Public Relations Team: Vukallective
Producer: Nicky Hassett, PACOFS, DAC
Photographers: Rico Myburg Photography
Juan Pinnick Photography
Mark Dobson & Erick Strydom for
Vukallective
Dancers: Teddy B Mhlambi
Kwena Peu
Pule Paul Peter
Mmase Jane
Sephiwe Xhaka
Carmin Cornelius
Franco De Wet
Boichwarelo Motaung
Molefi Masilo
Berlie Swart
Juan Pinnick
Siyabonga Nqonga
Poloko Moeng
Paseka Mohape
Teboho Kholumo
Rumané Grey
Leboh Mosholi
Thabo Lecoko